"Romania risks coming to the European Commission's attention because of the new energy taxes"
Romania is likely to come to the EC's attention, following additional new taxes aiming at products such as electricity, natural gas or coal, which could be considered "fiscal provisions inconsistent with the European legislation", consulting company Deloitte shows. The main changes signaled by Deloitte tax consultants as being non-compliant with the European legislation are the taxes for each MWh invoiced by electricity and natural gas transmission and distribution operators and the tax of 0.5% on the incomes of companies that handle the extraction, exploitation and trade of natural resources (including coal).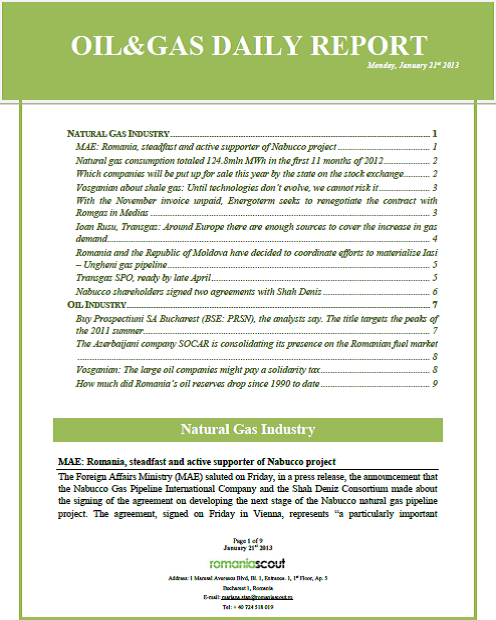 Subscribe to our Oil&Gas Daily Report today
Romaniascout's Oil&Gas Daily Report keeps you up to date with the latest news in the Romanian oil&gas industry and the related legislation.
Some of the largest investors in the Romanian oil&gas industry benefit from our monitoring services.The report is available every working day in English and is sent by e-mail in pdf format.Try it on a 2-week free trial basis or just subscribe for one month or more.
Regardless of your choice, contact us and we will find together the best solution for you, depending on your needs. If your browser does not support the format, read the report in pdf here. 
Click on the image enclosed above to read a sample report.