Romania's gas imports increased by 72%
Natural gas imports increased in January by 71.8% (91,700toe), compared with the similar period in 2012, Romania using from foreign sources an amount of natural gas of 219,400 toe, according to data centralized by the National Institute of Statistics. In the first month of this year, domestic gas production totaled 756,600toe, by 12,500toe (1.6%) lower than in the similar period of 2012. Romania's proven gas reserves amounted, in late 2011, to 100bcm, down by 500bcm against 2010, when they were estimated at 600bcm and accounted for 0.1% of the world reserves, compared with 0.3% in the previous year. The world natural gas reserves were estimated by BP at 208,400bcm.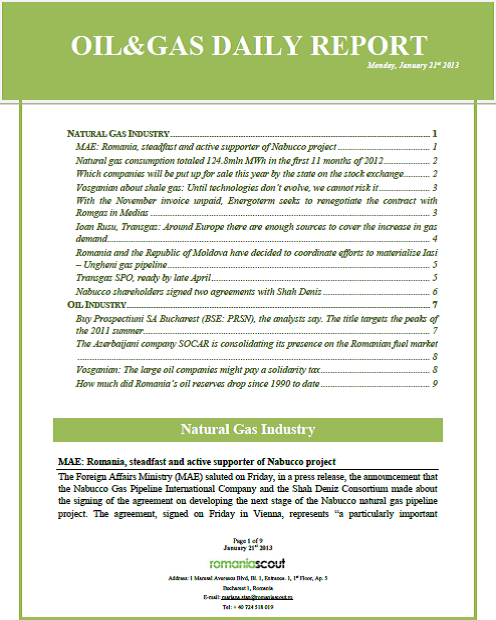 Subscribe to our Oil&Gas Daily Report today
Romaniascout's Oil&Gas Daily Report keeps you up to date with the latest news in the Romanian oil&gas industry and the related legislation.
Some of the largest investors in the Romanian oil&gas industry benefit from our monitoring services.The report is available every working day in English and is sent by e-mail in pdf format.Try it on a 2-week free trial basis or just subscribe for one month or more.
Regardless of your choice, contact us and we will find together the best solution for you, depending on your needs.
Click on the image enclosed above to read a sample report. If your browser does not support the format, read the report in pdf here.