OMV Petrom and Repsol will jointly explore deep onshore in Romania
OMV Petrom, the largest oil and gas producer in South-Eastern Europe, signs today a farm-out agreement with Repsol by which the latter acquires a 49% working interest for the area deeper than 2,500 – 3,000 m of the onshore exploration blocks Băicoi V, Târgovişte VI, Piteşti XII and Târgu Jiu XIII, located south of the Southern and Eastern Carpathians. Johann Pleininger, member of OMV Petrom Executive Board, responsible for Exploration and Production activity: "One of the major objectives of our strategy is to unlock the deep onshore exploration potential in Romania. This partnership with Repsol, a leading oil company with experience in the exploration of deep areas with complex structures, is an important step for evaluating the hydrocarbons potential of the four blocks. At the same time, partnerships with world class oil companies contribute to the increased dynamics of the Romanian oil and gas sector, with significant economic benefits for Romania". "We are very pleased to join the exploratory effort in Romania with this agreement, which adds to our efforts to expand our European exploration footprint. Romania has great potential which we hope to help materialize with this partnership. Petrom´s significant expertise in the area makes us fully confident of a successful partnership," said Luis Cabra, Executive Vice President for Exploration and Production at Repsol. OMV Petrom activities in the area involve both exploration and production. After privatization OMV Petrom performed an intense 3D seismic program in the area, as a result of which the Totea gas discovery was reported (in the Southwestern part of Romania). OMV Petrom and Repsol will jointly evaluate the data obtained during the already performed seismic programs to determine exploration drilling opportunities. It is estimated that in the next two years, the OMV Petrom – Repsol partnership will invest around EUR 50 mn for exploration drilling. The exploration partnership with Repsol is the third signed by OMV Petrom, after the joint venture agreement with ExxonMobil in 2008 and Hunt Oil in 2010. Both deep offshore exploration and deep onshore exploration involve high risks investments, specialized expertise and state of the art technologies. OMV Group already has signed exploration and/or production partnerships with Repsol group in Libya and Bulgaria.
 Source: www.bvb.ro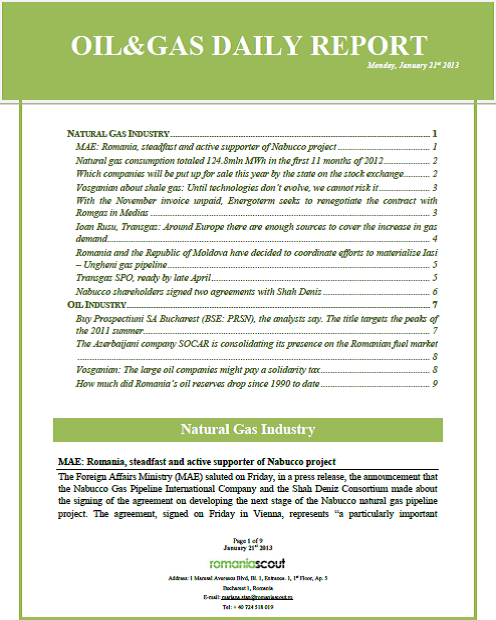 Subscribe to our Oil&Gas Daily Report today
Romaniascout's Oil&Gas Daily Report keeps you up to date with the latest news in the Romanian oil&gas industry and the related legislation.
Some of the largest investors in the Romanian oil&gas industry benefit from our monitoring services.The report is available every working day in English and is sent by e-mail in pdf format.Try it on a 2-week free trial basis or just subscribe for one month or more.
Regardless of your choice, contact us and we will find together the best solution for you, depending on your needs. If your browser does not support the format, read the report in pdf here.
Click on the image enclosed above to read a sample report.