Zeta Petroleum prepares to log Jimbolia oil appraisal well
Zeta Petroleum (ASX: ZTA) has drilled its Jimbolia-100 oil appraisal well in Romania to its target depth and is now preparing to carry out logging operations. A decision will made on testing of the well once the logging results are received. Jimbolia-100 is operated by Serbian oil and gas company NIS Gazprom Neft, which is majority owned by Russian gas giant Gazprom. It was drilled to a depth of 2,590 metres to assess the Jimbolia Veche oil discovery that has two hydrocarbon bearing intervals and a current Contingent Resource of 1.72 million barrels of oil. If successful, Jimbolia-100 will be completed as a production well.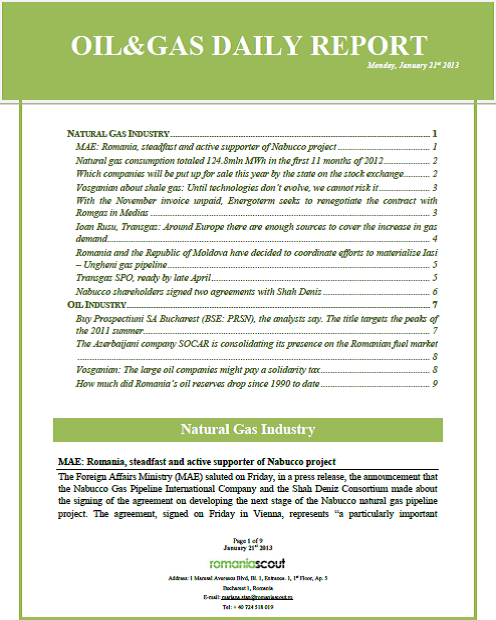 Subscribe to our Oil&Gas Daily Report today
Romaniascout's Oil&Gas Daily Report keeps you up to date with the latest news in the Romanian oil&gas industry and the related legislation.
Some of the largest investors in the Romanian oil&gas industry benefit from our monitoring services.The report is available every working day in English and is sent by e-mail in pdf format.Try it on a 2-week free trial basis or just subscribe for one month or more.
Regardless of your choice, contact us and we will find together the best solution for you, depending on your needs. If your browser does not support the format, read the report in pdf here.