Chevron to begin shale gas exploration in Barlad in the second half of the year
Chevron plans to start in H2 2013 the drilling of an exploration well in Barlad shale gas block and will initiate seismic studies for the three blocks in Constanta County. "We need to obtain about nine permits from various state institutions based on which we will receive the necessary construction permits for the prospecting areas", Chevron Romania manager Tom Holst stated, quoted by Mediafax. "Prospecting operations will take three to five years, after which Chevron and the Romanian Government will assess the results of this study. If feasible amounts are found, Chevron will start exploitation. Production lasts on average 25 years, so it's a long-term project", Holst added. Chevron owns in Romania a shale gas exploration/exploitation block in Barlad and three blocks in Constanta County, i.e. Vama Veche, Adamclisi and Costinesti.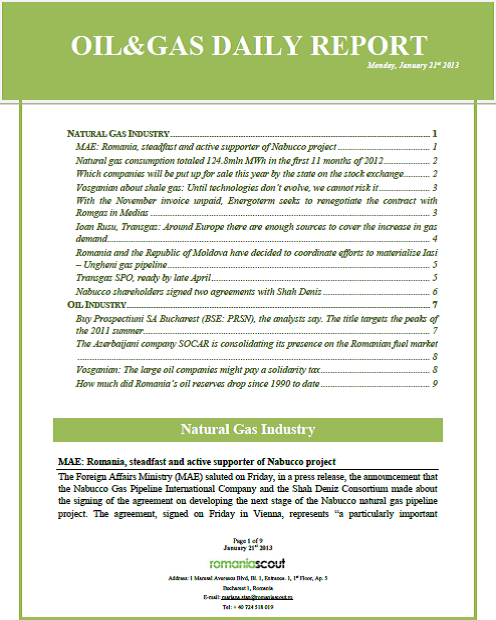 Subscribe to our Oil&Gas Daily Report today
Romaniascout's Oil&Gas Daily Report keeps you up to date with the latest news in the Romanian oil&gas industry and the related legislation. 
Some of the largest investors in the Romanian oil&gas industry benefit from our monitoring services.The report is available every working day in English and is sent by e-mail in pdf format.Try it on a 2-week free trial basis or just subscribe for one month or more.
Regardless of your choice, contact us and we will find together the best solution for you, depending on your needs. If your browser does not support the format, read the report in pdf here. 
Click on the image enclosed above to read a sample report.