About
We are scouting the Romanian online energy news to bring you the latest tailored information about the Romanian oil, gas and energy sectors at only one click away.
Follow us on our online platform and become connected in real time with the Romanian energy sector.
With an experience of more than 10 years in media monitoring, we provide specialized media reports in Romanian and in English, sent on a daily or weekly basis directly to your e-mail.
For a full personalized offer, including a sample report, depending on your company's profile, please do not hesitate to contact us at mariana.stan@romaniascout.ro.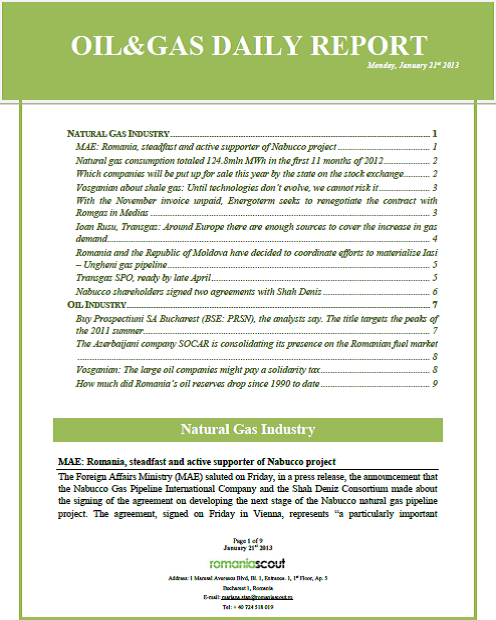 Subscribe to our Oil&Gas Daily Report today
Romaniascout's Oil&Gas Daily Report keeps you up to date with the latest news in the Romanian oil&gas industry and the related legislation.
Some of the largest investors in the Romanian oil&gas industry benefit from our monitoring services.The report is available every working day in English and is sent by e-mail in pdf format.Try it on a 2-week free trial basis or just subscribe for one month or more.
Regardless of your choice, contact us and we will find together the best solution for you, depending on your needs.
Click on the image enclosed here to read a sample report. If your browser does not support the format, read it in pdf here.